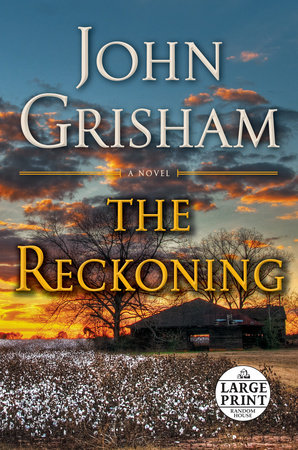 #1 bestselling author John Grisham's The Reckoning is his most powerful, surprising, and suspenseful thriller yet.

"A murder mystery, a courtroom drama, a family saga…The Reckoning is Grisham's argument that he's not just a boilerplate thriller writer. Most jurors will think the counselor has made his case."
—USA Today

October 1946, Clanton, Mississippi

Pete Banning was Clanton. Mississippi's favorite son a decorated World War II hero. the patriarch of a prominent family. a farmer, father, neighbor, and a faithful member of the Methodist church. Then one cool October morning he rose early, drove into town, and committed a shocking crime. Pete's only statement about it—to the sheriff, to his lawyers, to the judge, to the jury, and to his family—was: "I have nothing to say." He was not afraid of death and was willing to take his motive to the grave.

In a major novel unlike anything he has written before, John Grisham takes us on an incredible journey, from the Jim Crow South to the jungles of the Philippines during World War II; from an insane asylum filled with secrets to the Clanton courtroom where Pete's defense attorney tries desperately to save him.
Reminiscent of the finest tradition of Southern Gothic storytelling. The Reckoning would not be complete without Grisham's signature layers of legal suspense, and he delivers on every page.
I read it now and have to finish it, but it is just right. It's really just pulling on. With lots of holes. Grisham's writing has gone far down the hill. His last few books have been right meh, and it's a shame. He is capable of much better.
I would disagree with both of you. I found the rivet. I listened to it through Audible, which I thought helped me better understand the last 1/2 of the book. I own and have read all Grisham's books and will continue to do so. He was and is my favorite author.